Idocde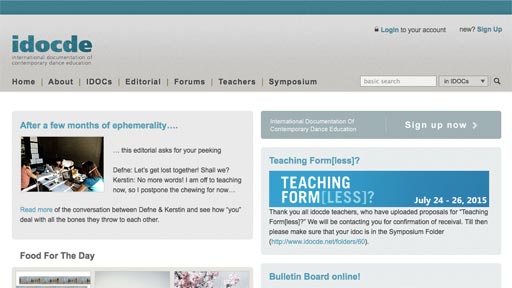 IDOCDE
Netzwerk zur Vermittlung des zeitgenössischen Tanzes
IDOCDE

(International Documentation of Contemporary Dance Education)
b
esteht aus einer Online-Datenbank und wird seit 2011 kontinuierlich weiter entwickelt. Ziel der Webseite ist es, ein weltweites Tool für zeitgenössische Tanzvermittlung bereit zu stellen.
In einem Pilotprogramm konzipierte 2011- 2013 eine Gruppe von europäischen Tanzvermittler/innen das Netzwerk IDOCDE. Gitta Barthel war als Keyteacher an der Konzeption und Realisierung der Plattform beteiligt und ist seither aktives Mitglied des Netzwerkes, welches kontinuierlich wächst.
IDOCDE is a project designed to develop and document best practices of contemporary dance education, to improve networking among contemporary dance educators and to increase visibility of this vibrant art form. It is a community driven project. The  2 year pilot program (August 2011-July 2013)  consisted of a network of European dance educators who met regularly for exchange, peer research and for the development of www.idocde.net. The aim of the website is to become a useful tool for contemporary dance educators worldwide.
Mind the dance
A digital publication and guide to documenting contemporary dance teaching
The mission of Mind The Dance is to inspire dance teachers to integrate documentation ideas into their teaching process
---
IDOCDE. Symposien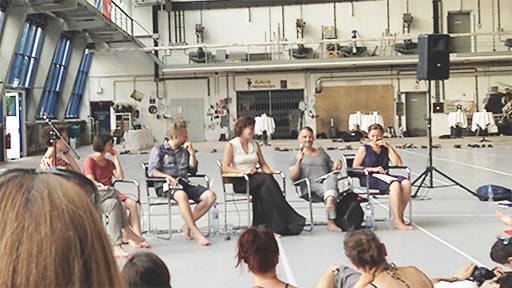 Alljährlich stattfindende Symposien ermöglichen lokale Treffen zur Weiterentwicklung der Vermittlung des zeitgenössischen Tanzes mit multiplen Formaten wie Workshops, Lectures und Diskussionsrunden:
6th IDOCDE* Symposium
"You are here! - 2018
ImPulsTanz Vienna International Dance Festival
Here you are invited to participate, realize, co-inhabit time, space, and bodies of knowledge together, during the 6th IDOCDE symposium!
The IDOCDE symposium is committed to sharing practice(s) of dance, to fostering community, and to the interweaving of dancing and reflecting.
Keeping within this tradition, this year's content is generated by a collaborative effort of 30+ fellow dance practitioners / teachers in a residency before the symposium. The MIND THE DANCE publication provides an underscore for seven groups to research and play with different ways how to engage with artistic and reflective documentation within their practices - to be shared and discussed with you further in the symposium REFLEX track.
Alongside this focus on collaborations and collectives, that is also the pairing of the pedagogic/artistic with reflective practice, the symposium track contextualizes our actions as another kind of relationship: to think together how the political and the private intertwine in our doing and thinking. We have invited artists who move your thinking to create participatory choreographic spaces, performative lectures, a shared dinner, and much more to engage your contemporary mind and body.
In this sense all of the symposium is (1) the place and (2) the time for (3) the becoming relationship, the content of which is going to be revealed in real time. Please come and join us this weekend during which we will attempt to instant-compose a socio-political, choreographic sculpture of experience-based knowledge – and so collectively bring about the 2018 IDOCDE Symposium!
Registration: workshops@impulstanz.com, Questions: symposium@idocde.net
Termin
27. - 29. Juli 2018
Ort
Wien